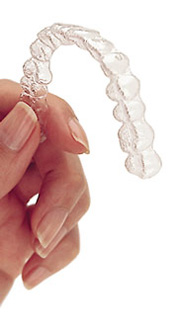 Consider Invisalign to get the beautiful straight teeth you've always wanted – without braces. A consultation with Dr. Bibby can determine if Invisalign is right for you.
What is it?
Invisalign uses a series of invisible, removable, and comfortable aligners that no one can tell you're wearing. So you can smile more during treatment as well as after. Invisalign is made with 3D computer imaging technology and has been proven effective. More than 70% of orthodontists in the US and Canada are certified to treat with Invisalign.
Why would I want it?
Not only are the aligners invisible, they are removable, so you can eat and drink what you want while in treatment. Plus, brushing and flossing are no problem. They are also comfortable, with no metal to cause mouth abrasions during treatment. And no metal and wires usually means you spend less time in your doctor's office getting adjustments. Invisalign also allows you to view your own virtual treatment plan when you start so you can see how your straight teeth will look when your treatment is complete.
How does it work?
You wear each set of aligners for about two weeks, removing them only to eat, drink, brush, and floss. As you replace each aligner with the next in the series, your teeth will move — little by little, week by week — until they have straightened to the final position your doctor has prescribed. You'll visit our practice about once every six to nine weeks to ensure that your treatment is progressing as planned. Total treatment times and number of aligner trays can vary from case to case but typically aligner treatment is shorter than traditional braces treatment.
iTero Tooth Scanner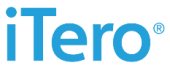 Conventional vs Digital Impressions
No more goop, gagging, or discomfort. Using an iTero scanner, we can take a highly accurate digital impression of your teeth and jaw. The new technology completely eliminates the tray and putty impressions, where the experience is comparable to stuffing a big wad of gum in your mouth. The old technique can be incredibly unpleasant and frequently results in taking multiple rounds of impressions that can be rejected, broken, or misplaced. The iTero scanner ensures a more accurate impression from the start, resulting in improved treatment and a more comfortable patient experience. Digital impressions also give you the ability to see your teeth instantly in 3D, improving communication during the consultation and treatment process.

How Does it Work?
The iTero scanner digitally captures the structure of the teeth and gums using the latest optical technology. The scanner is a compact, hand-held wand. Once we begin the scanning process, it can be stopped and started as many times as necessary.
Your mouth is scanned with a radiation-free laser, and in as little as six to seven minutes, the laser renders a digitally perfect, 3D impression of your teeth and soft tissue structures. Through digital software, you'll then be able to follow the progress of the scans, including a 3D model of your teeth on our computer screen. The iTero scanner can be used for any orthodontic treatment, including Invisalign®.